Invitation public debate | 'Putin 4.0: ready for a new Cold War?'
Gepubliceerd op 19 april 2018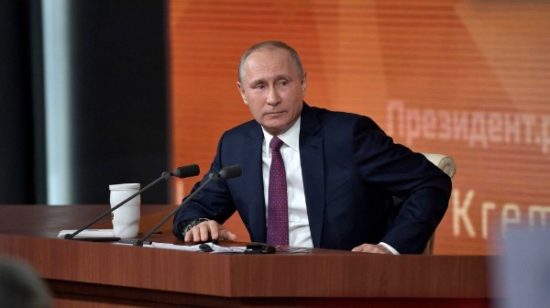 The Clingendael Institute, the Netherlands Society for International Affairs (NGIZ) and knowledge platform Raam op Rusland ('Window on Russia') are honoured to invite you to a keynote lecture by prominent Russian think-tank expert and head of the Carnegie Moscow Center Dmitri Trenin. Following Dr Trenin's remarks, there will be a panel discussion on what to expect from Russia as president Vladimir Putin embarks on his fourth term in office.
How will Putin 4.0 shape Russia's relations with Europe, the US and Asia? Will Russia's foreign policy be one of greater assertiveness or greater isolation? Should we expect détente or more disagreement? And how will this affect Russia's citizens and society? In an attempt to assess what President Putin's fourth term in office may bring, we invite to join us for this event on Friday, May 18th.
In the panel discussion Dmitri Trenin will be joined by three other Russia experts, who will comment from their own perspectives on Putin 4.0:
Kadri Liik, Senior Policy Fellow, European Council on Foreign Relations;
Bob Deen, Senior Adviser, OSCE High Commissioner on National Minorities;
Tony van der Togt, Senior Research Fellow, Clingendael Institute.
Moderator: Rem Korteweg (Clingendael Institute).
Please also note the following Clingendael podcast on Putin 4.0:
https://soundcloud.com/clingendael-institute/tony-van-der-togt-on-putins-fourth-presidential-term-26-april-2018.
Programme:
14.00 hrs     Registration
14.30 hrs     Opening by Jan Rood (Clingendael/NGIZ) and Hubert Smeets (Raam op Rusland)
– Key note Dmitri Trenin
– Panel discussion
– Q&A
16.00 hrs     Closing (to be followed by drinks till 17.00 hrs)
Entrance will be free of charge, but please note that you will have to register before Monday 14 May, as there are limited seats available. For registration please click here.
Publieksbijeenkomst
18 mei 2018
14:00 - 17:00
Locatie
Adres
Prinsessegracht 26, Den Haag, 2514 AP
Publieksbijeenkomst
18 mei 2018
14:00 - 17:00