NGIZ Noord | Eyes on Russia: Election of an Emperor?
Gepubliceerd op 7 februari 2018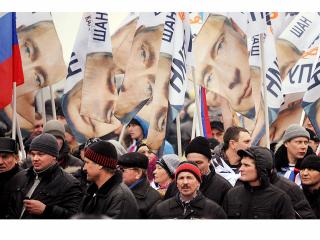 Seventeen years after Vladimir Putin first became president, his grip on Russia is stronger than ever. The West, which still sees Russia in post-Soviet terms, sometimes ranks him as his country's most powerful leader since Stalin.
Also referred to as 'tsar' – a title earned by lifting his country out of the chaos in the 1990s and by making it count again in the world- Mr Putin is up for re-election in March 2018.
What is the current climate in Russia surrounding this presidential election? What are Mr Putin's plans and ambitions and what does this mean for the world?
Prof. dr. Hans van Koningsbrugge will shed light on these question in a mini-lecture organized by NGIZ on 15 March 2018. Prof. van Koningsbrugge is Director of the Centre for Russian Studies at the University of Groningen and of the Netherlands-Russia Centre. As professor for history and Russia, his research focuses on decision-making processes and mechanisms in Russia in the 20th and 21st centuries, particularly with regard to international cooperation. He is also a guest lecturer at the Netherlands Institute of International Relations Clingendael and the Netherlands Defence College Rijswijk.
Entrance is free.
For more information, please see our event page on Facebook: https://www.facebook.com/events/1978072689178249/
Eyes on Russia
15 maart 2018
20:00 - 22:00
Locatie
Adres
Broerstraat 5, Groningen
Eyes on Russia
15 maart 2018
20:00 - 22:00