NGIZ Rotterdam | Brexit – through the eyes of Britain By the British Ambassador to the Netherlands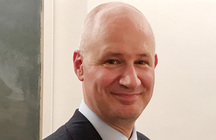 "Over. And Out" was the Guardian's headline directly after the Brexit referendum. We are slowly learning what the meaning of the United Kingdom's exit from the EU will be. Just under a year before the start of the actual transitional period, we join the British Ambassador to the Netherlands in looking at current affairs, reviewing the British citizens' motivation behind Brexit, and in particular considering the question: what will be the future of the relationship between UK and EU with Netherlands
The whole of Europe was shocked when the British voted to leave the EU after 45 years; it was a singular occurrence in the history of the Union. And it leaves the EU in unfamiliar territory: how can the EU organise an exit that is so legally complex and politically volatile, with such extensive economic consequences for citizens on both sides of the Channel, without having a specific, well-developed separation procedure?
After two years of negotiations, the outlines are slowly becoming clearer. What do both parties expect of one another? Will this be a rock-hard Brexit or will the UK and EU 'part amicably'? Are the British still backing their choice when they know that 48.1% voted to 'remain'? And what consequences does the British exit have for the economies of the UK and EU, or, for instance, for exchange students and expats? How can the UK and the EU better cooperate? Remains there a close relationship between the UK and the Netherlands?
A current affairs lecture by Peter Wilson, British Ambassador to the Netherlands, with extensive Q&A session. Moderation: Professor Kees van Paridon, Chair NGIZ Rotterdam
A special 'peek behind the diplomatic scenes' from a British perspective.
Organised by Studium Generale in collaboration with Erasmus Alumni Association/Erasmus Trustfonds and the Netherlands Society for International Affairs (Nederlands Genootschap voor Internationale Zaken).
Reservations via [ link ]
deelname
15 mei 2018
12:30 - 13:30